About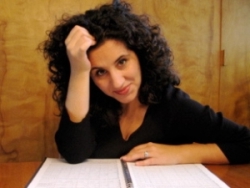 As a young musician, Roshanne studied piano and flute, and developed an interest in many different styles of music, from the musicals of Steven Sondheim to the 1980's power ballads and Europop of her teenage years. One fateful evening evening in 1986, she saw Philip Glass and his ensemble perform as the musical guests on Saturday Night Live. This event marked the beginning of her interest in contemporary classical music, as well as her interest in being a composer herself.

Since then, Etezady's works have been commissioned by the Albany Symphony, Dartmouth Symphony, eighth blackbird, Music at the Anthology, and the PRISM Saxophone Quartet. She has been a fellow at the Aspen Music Festival, the Norfolk Chamber Music Festival and at the Atlantic Center for the Arts. Performers and ensembles including Rêlache, Amadinda Percussion Ensemble, Ensemble De Ereprijs, and the Dogs of Desire have performed Etezady's music throughout the United States and Europe. Roshanne Etezady's music has earned recognition from the American Academy of Arts and Letters, the Korean Society of 21st Century Music, the Jacob K. Javits Foundation, Meet the Composer, and ASCAP.

An active teacher, Etezady has taught at the Interlochen Arts Camp, Yale University, Saint Mary's College, and the Crane School of Music at SUNY Potsdam. She has given masterclasses at Holy Cross College, the Juilliard School, and the Norfolk Chamber Music Festival.

Etezady holds academic degrees from Northwestern University and Yale University, and she has worked intensively with numerous composers, including William Bolcom, Martin Bresnick, Michael Daugherty, and Ned Rorem. She completed her doctorate at the University of Michigan in March, 2005.